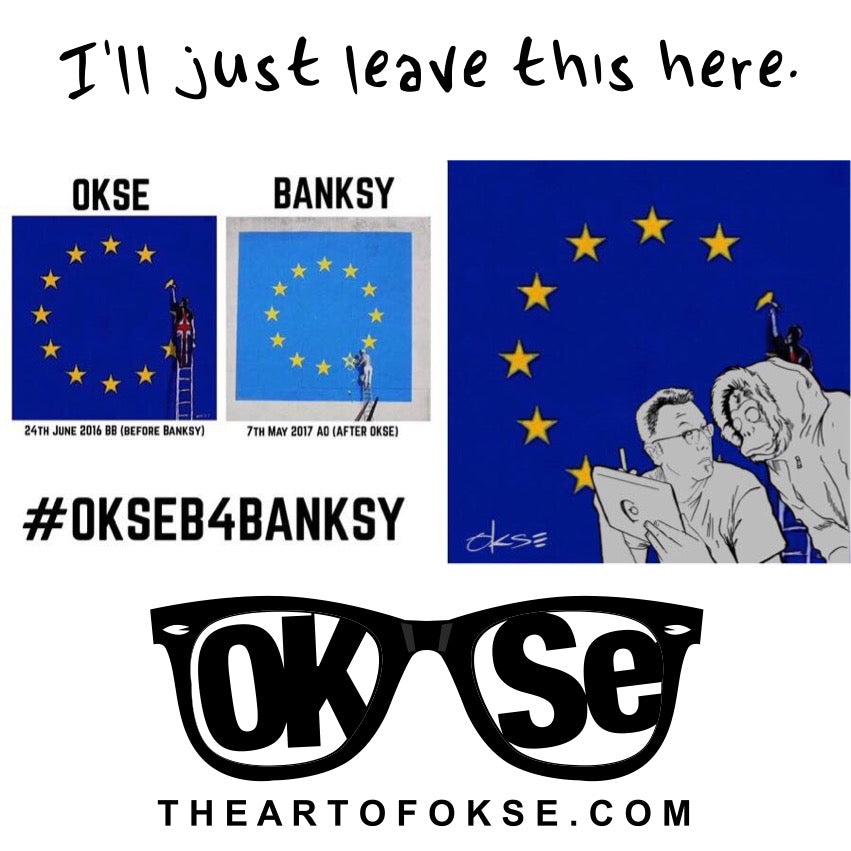 It's the 24th of June 2016 , I awake to find that we have left the EU, I read articles about it and I see those 12 stars on a blue background , I think to myself " we're not going to be a part of that anymore , let's take our star down". I wanted to make a statement as an artist it's important for me to do that amongst the sea of icons and cartoons I create. So at 8 ish in the morning I got my iPad and started to draw a man in Union Jack overalls on a ladder holding a bucket and erasing one of the stars.

I posted it up on Instagram , It got likes, it got viewed hashtags used #eureferendum #brexit #art

It wasn't a finished piece , it was a preliminary a piece that was mine a piece that I could go back to when we finally left.

It was an emotional time for our country, the youngsters concerned about their futures and the elderly voting out because there were hundreds of coaches of foreigners coming to claim benefits , take our jobs and steal our recycling bins.

We put it to the back of our minds and carried on as a nation.

So I wake up one day (May 2017) and check my social networks and see an article on the latest Banksy piece, a wall in Dover using the same concept as mine re the EU

This piece was "created" on the side of a building owned by the Godden Family who are property developers in the Kent area. They have had dealings with Banksy before they tried to sell a Banksy in Folkestone three years earlier and lost a high court battle as they were tenets of the building rather than freeholders .

The Godden family intend to sell this artwork for 1 million and give the money to charities in the area, this is all well and good, but I've got an Mot coming up very soon, plus I'd like some credit.

But Okse , why do you think Banksy copied your idea and what are the similarities?

1/ bloke is on ladder
2 / bloke is wearing overalls
3/ bloke is getting rid of star.
4/ bloke is using a bucket (even though he is chiselling)
5/ hashtags #eureferendum #brexit #art
6/ it's a bloody good idea.
Now I don't know how Banksy works nowadays , is he still a single person walking round town pretending to be drunk with pizza boxes with stencils on the underside to avoid police intervention, or has he got minions a la Damien Hurst putting ideas forward? Maybe this could have happened.

I've tried to contact him by email three times with all my concerns but have heard nothing back, you could say I've been blanksied.

Here's the email I sent:

" Dear Banksy,

Hello you, hope you're keeping well.

My name is Chris Oxenbury aka Okse (pronounced Oxy, used to spell it O-x-y until they brought out that spot cream...then discovered "Okse" means "vomit" in Estonia )

Anyway I'm a Black Country artist based in Leamington Spa and I'd like to let you know I recently saw a piece you'd done in Dover and it is very much like mine that I did 24th June 2016 the day the referendum results came in.

Here is a link please check the dates and feel free to have a gander at my other stuff.

https://instagram.com/p/BHB6WOFgo82/


I think it's very cool that you and I have had the same idea and it saddens me that I won't be able to create this piece now on canvas as I will be accused of Banksy plagiarism and then I'd have to be all like having to explain that I did it ages ago.

I was going to create it once we'd left properly.

I won't be able to make anything from it, I'm not doing too bad as an artist but I'm still starving and still trying to get my name out there. I've read that the owners of the building are going to sell it for a million! And I'm finding it hard to pay my council tax! :)

Anyway I'd love to have a chat with you about it, maybe you could give us a bell and you could put a cloth over the mouth piece like they do in the movies.


All the best

Okse "

So there you go , a non confrontational email, keeping it sweet , keeping it friendly.

I've spoke to other artists , some have been like shout it from the rooftops, some have been like, "just leave it". Also I've had "You can't sue him , you've got no money" (that was my mum)

So the internet is powerful and I'm going to use it, I'm not being deluded, I came up with the concept first, and I'm not lying , I've got proof.

So if you're reading this and you want to spread the word for me

Just post the following image on your social networks if you ever see a Banksy article or tweet this article about. I'd really appreciate it and when I get massive I'll doodle on serviettes for you to auction off.



Use the hashtags
#illjustleavethishere #okseb4banksy

Thank you x

if you're press and you'd like to chat further about stuff please drop me a line at info@theartofokse.com
and please feel free to browse my site whilst you're here to see what I'm all about.
Read more →
---
---
---